Through the years I have had a great time collecting autographs.  In this spot I'll talk about some of my favorite memories enjoying the hobby.
Jan 3, 2018 Noah goes to his first NBA game with me.  We come away with an autographed Jersey from his favorite player not named Dirk, Stephen Curry.  We also got two cards signed by Klay Thompson, and index cards signed by Jim Burnett, Jordan Bell, and JaVale McGee.  The Warriors won on a Three Pointer by Curry with 3 seconds left. 
During the NASCAR Sprint Cup Week in April of 2016 I took my oldest son with me to get his favorite driver Joey Logano's autograph.  What we got was a ton more as we were the first in line.  Joey signed his die-cast, a race used tire, some cards, hero cards, and his shape and race car that we made for Christian Service Brigade.  Joey was nice as always and asked my son how did his car do at shape and race.  My son said "it didn't win on craftsmanship or design but it won in speed.".  Joey replied "That's okay they all look pretty from victory lane."  Before the event started I asked if I could set my son on the car and take a picture of him in the "Joey" pose when he wins.  The guys said "Don't get hurt and do it quickly".  We did both!!!
On Sept 8, 2017 I got this in the mail!!!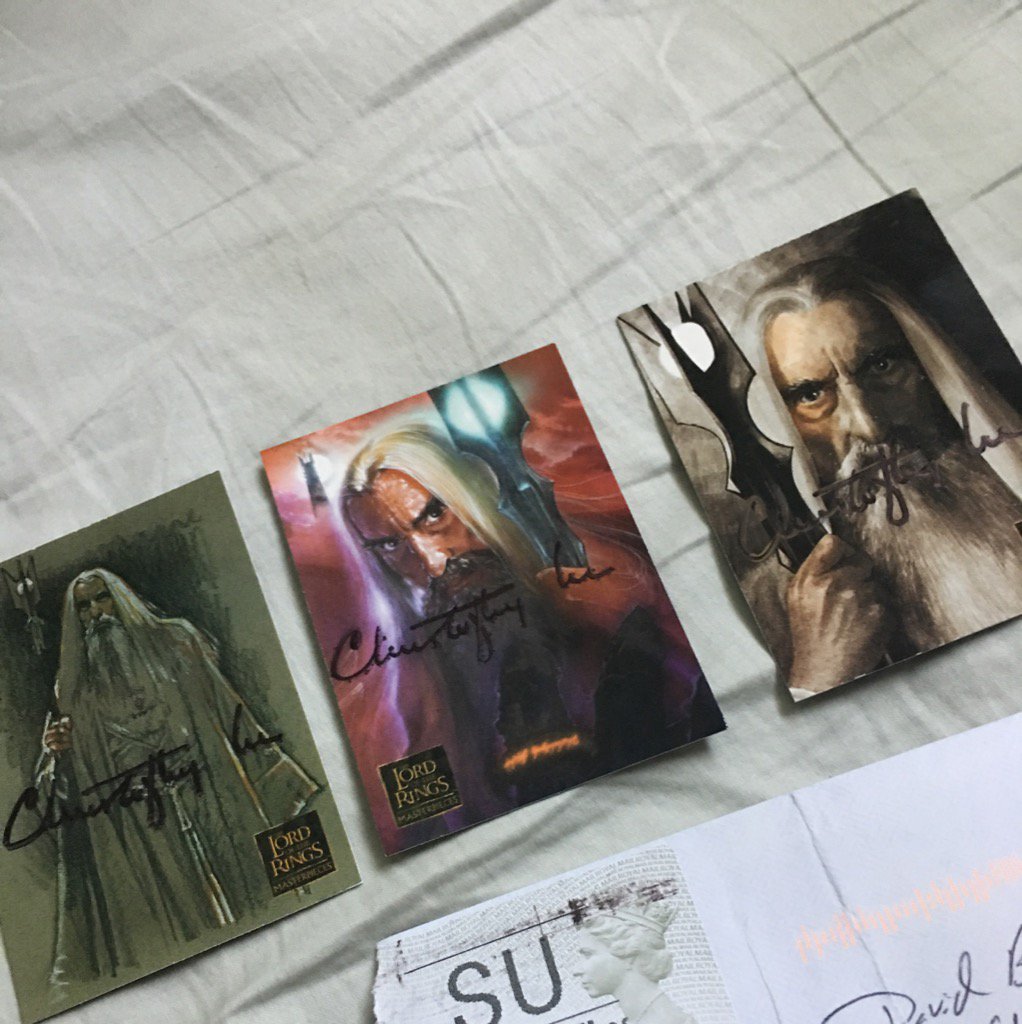 I could not believe my eyes.  I sent this in the mail back in 2014.  I couldn't figure out how to get postage on the return envelope, so I put a couple of bucks in the envelope with the three cards for my boys and just hoped.  Then June of 2015 he died.  The LOTR actor was gone and so were my hopes to get my cards back.  Two years and 2 months after his death I opened the mail box and found these inside.  Talk about a HUGE Surprise for a Middle Earth Fan.  Very excited to get these for my boys.  I'm not sure who in his family found these to mail them to me but thank you so much.
Back in the Day before Mark Martin, Kasey Kahne and Kyle Busch there was the next great driver for Hendrick Motor Sports driving the 25 Brian Vickers.  Through the years I believe I have gotten Brian's autograph 5 or 6 times.  Brian was always nice to the fans and a laid back cat.  I was sorry to see him leave Hendricks but when he joined team Red Bull I thought he would be in a good ride.  Things never panned out for him but all in all I always appreciate any of the drivers or players taking time out for the fans.  Below is one of my die-cast I've gotten signed.
Another ole-timer that I got signed was Dale Sr.'s teammate Mike Skinner on his Japan ran Lowes Die-cast.  Now Skinner may not be as accomplished as the other Lowes driver.  But through the years as a fan I've never been turned away by Mike for an autograph.  A classy guy.  One of my favorite times meeting him was coming out of the TMS weight room.  I could tell that mustache any where with those top gun shades.  I said Mike Skinner and he just smiled.  I pulled out a couple of cards and he signed them very nicely.
This photo is one of my favorites Noah and Alex look so excited.  We went to the Chevy Stage at Texas Motor Speedway in April of 2016, and attached two die-cast to a piece of trim.  This gave the boys a little extra reach to get in on the autograph action.  Dale Jr. signed both the cars for Alex and Noah and then Reagan walked up to him to get a NASCAR Card signed.  A really fun day for me to remember.  They also got autographs from Kurt Busch, Michael Annett, & Dannica Patrick.
Back in 1998 I got my first NASCAR Autograph from Legend Harry Gant.  Now back then I didn't have all the die-cast or cards to get signed so I had him sign my NASCAR 50th Anniversary Hat.  He was signing at the trailer right outside the track and this access to the athletes began a serious addiction to hunting down NASCAR autographs.  I had already been into Autograph collecting for Baseball, and Basketball but NASCAR made it easy.  This photo was taken right before my first NASCAR Race!  I had been to the track the previous year for the first day of qualifying.
Through the years as you meet the drivers for the second and third time I always like to get an older photo of the two of us signed.  Back at a gas station autograph signing in Denton with his son Steve Wallace, I brought this photo with a die-cast.  Rusty signed them both and asked where the photo had been taken.  I told him right out side the men's room in the TMS garage.  He just smiled.  I asked if we could go back through the line since there were only about 50 folks there and he said, "how much do you have".  I smiled and said about 10 to 15 more cards, die-cast, and photo's.  He said "bring them all".  This and the time at the bathroom were the only two times I met the driver of the "Blue Deuce" but he was super generous with his time that night.  A funny side note as we were getting the autographs a car drove by and peeled out.  Now I think that is a terrible habit for drivers to get into but doing it in front of 50 time race winner Rusty Wallace seemed even more ridiculous than usual.
Back when my oldest son was just a little guy we wanted to take him to get his first autograph.  My wife was able to get the picture of Jimmie signing a piece of sheet metal for us in silver and a few hero cards and a NASCAR card.  This was a fun memory that almost turned real sour.  The people that were handling the signing event picked up my 3 ring binder with about 300 NASCAR Cards in it (200 of them signed) to the guy in line in front of us.  The guy took off with the binder into the crowd.  I kept my eye on him and got our stuff and then had to approach him about getting my items back.  He said, it was an honest mistake he thought Jimmie was just giving away binders of other drivers autographs away randomly.  I'm sure you can guess what I was thinking.  Anyways he gave it back and we left with our mission accomplished.  Noah's first Autograph!
So back when my wife and I were dating I took her to  a Rangers game 6 hours before it started in the HOT Texas Summer.   I thought she was going to kill me as she baked in the sun.  We were at an MLB Inter-League game to see the return of Rangers Great Ivan Rodriguez as the Marlins were in town.  I was third in line on the Marlins side waiting for Pudge to come over.  I had never gotten his autograph before and as of today 1/19/2017 (The day after he went into the HOF) I haven't gotten it since.  I sat patiently, and then out of no where Pudge started signing but for the Rangers side.  I didn't want to lose my spot in case he came over, so my wife said I'll go over there.  She waited and was about number 30 in line but she came back with this beauty.  It has blurred over the years but I don't care it's the best autograph she has ever gotten for me.  And after sitting in that HOT sun I had to marry her.
So back in 1998 I wanted to get two drivers to autograph my 1997 TMS Race Program.  One was Jeff Burton the winner of the first race and the second was Mark Martin his Roush Racing Teammate.  I was on-call and couldn't make it to the signing at Speed Zone.  So my sister and some guys from the dorm went down there with my two programs.  They got there early so that they could get the autograph.  The problem was once people got there they did a lottery system.  My sister ended up winning the Mark Martin lottery and my friend that went with her won the Jeff Burton lottery.  I ended up with both programs signed.  This isn't that exciting of a story from me but I do want to mention it because my sister went way out of her way to get these for me and I really did appreciate it.  In all my years I only got Mark Martin autographs 4 other times, but this was the first one.  Thanks Chris!
Back in 2006 NASCAR had a Ton of Young Rookies waiting to make their mark.  Reed Sorenson, David Stremme, and JJ Yeley were all available for autographs that year.  Here is some of my gets, thanks to Discount Tire we won a race used tire and had Sorenson sign that too.
Back in 2001 Dale Sr. Died and was replaced by Kevin Harvick who beat Jeff Gordon at Atlanta just 3 weeks later in the cup series. Harvick had to also race in the Busch series because he was committed to that ride. On March 31, 2001 the hottest rookie in NASCAR won his first Busch series race of the season at Texas Motor Speedway. After the race to the delight of the crowd Harvick came out to the souvenir trailer and signed autographs for at least 800 people. He was so Happy perhaps, that is how he got the nickname. Anyways I tossed this ticket stub with a picture of Mark Martin on the case and his wife DeLana signed it. Talk about a cool piece of NASCAR history. Folks this is before she wore the Fire Suit every week.